Cam's Kids Book Club: 'Paper Son' by Julie Leung
Tuesday, March 28, 2023
4:30 pm - 5:30 pm
Welcome to Cam's Kids Book Club:
Register for this program to get your own free copy of the book to keep! One book will be given per family.
Starting March 1st, pick up your book from the library.
Read and enjoy the book at your own pace.
Come chat about this month's book and other books you love at the Alexandria Branch on March 28th at 4:30 pm.
This month's book is Paper Son: The Inspiring Story of Tyrus Wong, Immigrant and Artist by Julie Leung.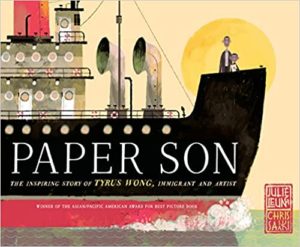 An inspiring picture-book biography of animator Tyrus Wong, the Chinese American immigrant responsible for bringing Disney's Bambi to life.
Before he became an artist named Tyrus Wong, he was a boy named Wong Geng Yeo. He traveled across a vast ocean from China to America with only a suitcase and a few papers. Not papers for drawing–which he loved to do–but immigration papers to start a new life. Once in America, Tyrus seized every opportunity to make art, eventually enrolling at an art institute in Los Angeles. Working as a janitor at night, his mop twirled like a paintbrush in his hands. Eventually, he was given the opportunity of a lifetime–and using sparse brushstrokes and soft watercolors, Tyrus created the iconic backgrounds of Bambi.
Julie Leung and Chris Sasaki perfectly capture the beautiful life and work of a painter who came to this country with dreams and talent–and who changed the world of animation forever.
---
Please register all children. Only one adult per family group.
Please note any accommodation requests in the Special Needs section of the registration form.
If you have any questions, please contact Katherine at ksallee@cc-pl.org.
Age Range: Grades 1-5
Register for this event
Only register your child(ren).
Caretakers do not need to register to attend.
Registrations are closed for this event.