Cam's Kids Book Club — "Making Their Voices Heard: The Inspiring Friendship of Ella Fitzgerald and Marilyn Monroe" by Vivian Kirkfield
Tuesday, February 22, 2022
4:30 pm - 5:30 pm
Welcome to Cam's Kids Book Club:
Register for this program to get your own copy of the book to keep.
Starting February 1st, pick up your book from the library.
Read and enjoy the book at your own pace.
Come chat about this month's book and other books you love at the Alexandria Branch on February 22nd at 4:30 pm.
This month's book is Making Their Voices heard: The Inspiring Friendship of Ella Fitzgerald and Marilyn Monroe by Vivian Kirkfield.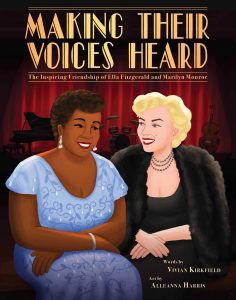 Ella Fitzgerald's velvety tones and shube-doobie-doos captivated audiences. Jazz greats like Louis Armstrong and Duke Ellington couldn't wait to share the stage with her, but still, Ella could not book a performance at one of the biggest clubs in town–one she knew would give her career its biggest break yet.
Marilyn Monroe dazzled on the silver screen with her baby blue eyes and breathy boo-boo-be-doos. But when she asked for better scripts, a choice in who she worked with, and a higher salary, studio bosses refused.
Two women whose voices weren't being heard. Two women chasing after their dreams and each helping the other to achieve them. This is the inspiring, true story of two incredibly talented women who came together to help each other shine like the stars that they are.
---
Please register all children. Only one adult per family group.
If Campbell County is ORANGE or above on the Kentucky Department for Public Health's COVID-19 Dashboard, everyone, age 2 or older, who attends library programs are required to wear masks.
Please note any accommodation requests in the Special Needs section of the registration form.
All state and federal COVID-19 mandates will be followed.
If you have any questions, please contact Katherine at ksallee@cc-pl.org.
Age Range: Grades 1-5
Register for this event
Only register your child(ren).
Caretakers do not need to register to attend.
Registrations are closed for this event.