Cam's Kids Book Club: 'Dear Treefrog' by Joyce Sidman
Tuesday, June 27, 2023
4:30 pm - 5:30 pm
Welcome to Cam's Kids Book Club:
Register for this program to get your own free copy of the book to keep! One book will be given per family.
Starting June 1st, pick up your book from the library.
Read and enjoy the book at your own pace.
Come chat about this month's book and other books you love at the Alexandria Branch on June 27th at 4:30 pm.
This month's book is Dear Treefrog by Joyce Sidman.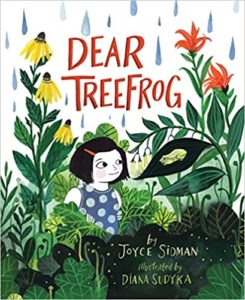 When a shy girl moves to a strange new home, she discovers a treefrog perched in a secret spot nearby and learns that sometimes, all it takes to connect with the people and the world around us is a little patience, a curious mind, and a willingness to see the world through a different perspective than your own. With beautiful gouache illustrations by Diana Sudyka and magical, perceptive poems from Newbery Honor–winning author Joyce Sidman, the lives of one tree frog and the girl who discovers it converge, bringing solace, courage, and joy in finding a kindred spirit.
---
Please register all children. Only one adult per family group.
Please note any accommodation requests in the Special Needs section of the registration form.
If you have any questions, please contact Andi at aholt@cc-pl.org.
Age Range: Grades 1-5
Register for this event
Only register your child(ren).
Caretakers do not need to register to attend.
Registrations are closed for this event.