Early Literacy Outreach
According to a report released by The Kentucky Governor's Office of Early Childhood, an average of 44% of Campbell County's incoming kindergartners were not ready for school. To address this community need, the library employs an Early Literacy Outreach Librarian and programmer to help spread early literacy skills throughout our community. The services provided by this office are listed below.
Story Time Visits to Day-cares and In-Home Childcare Providers
An Early Literacy Outreach Programmer or Librarian will visit your location for a story time geared toward early literacy and kindergarten readiness.
Professional Resources Collection
This collection consists of 30 titles that may be checked out by daycare centers and in-home childcare providers to assist planning of curriculum and individual lessons.
We have many more resources for teachers. Learn all about them here.
Story Time Kits
Each themed kit contains books, manipulatives, music CDs and an activity guide. Activity guides suggest how to use kit materials – songs, fingerplays, flannel board sets, puppets, craft ideas, and more – to incorporate early literacy skills. These kits may be checked out by daycare centers and in-home providers.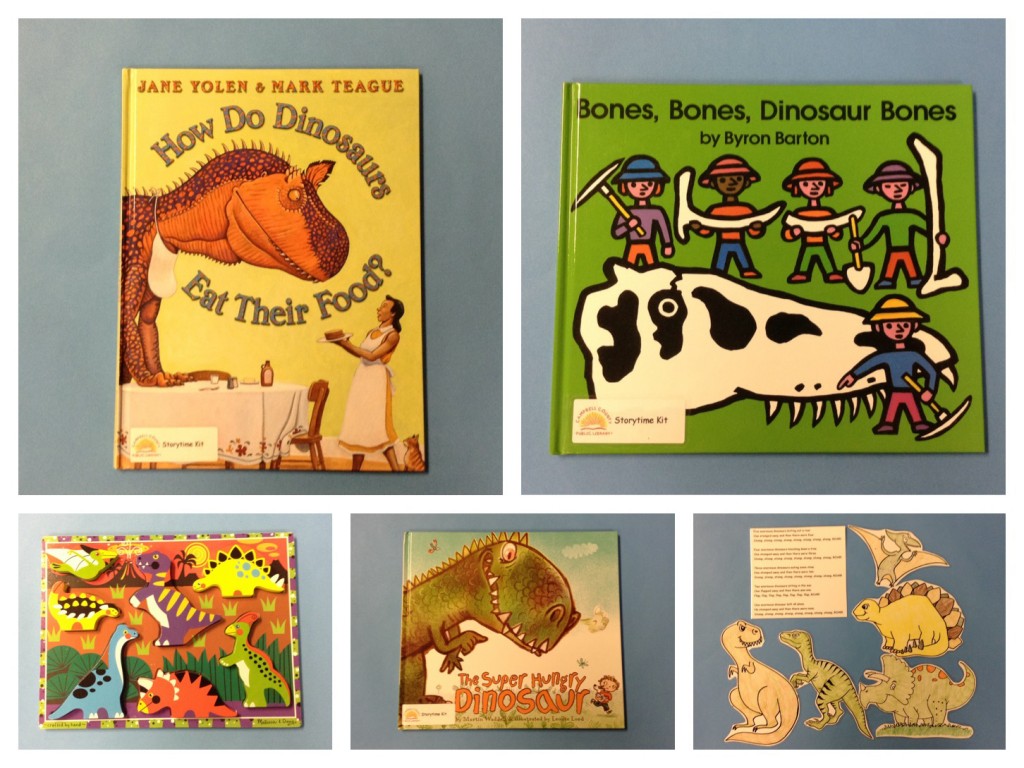 Kits available:
ABC/123
At the Zoo
Babies
Baking
Bedtime
Colors
Community Helpers
Dinosaurs (pictured)
For the Birds
Music
Nursery Rhymes
On the Farm
Pets
Safari Animals
Transportation
Born to Read Gift Bags
These include a Born to Read brochure from the American Library Association, as well as other information about early literacy and programs at the library; a library card application; a coupon redeemable for a board book when they visit the library; and a flip booklet of nursery rhymes. These bags are distributed to new mothers through the WIC program of the Health Department.
Teacher/Caregiver Collections
Submit your request online and a librarian will craft a collection especially for your class.
---
About Carol
Carol is a librarian with many years experience working with NKY children. If you'd like to speak to her about her free services, email her at cfreytag@cc-pl.org or call her at 859-572-5035 ext. 35.