Real Men Read – "The Last Days of Night" by Graham Moore
Thursday, June 24, 2021
7:00 pm - 9:00 pm
About the Book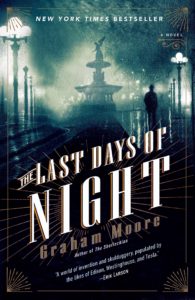 "A model of superior historical fiction . . . an exciting, sometimes astonishing story."—The Washington Post
From Graham Moore, the Oscar-winning screenwriter of The Imitation Game and New York Times bestselling author of The Sherlockian, comes a thrilling novel—based on actual events—about the nature of genius, the cost of ambition, and the battle to electrify America.
New York, 1888. Gas lamps still flicker in the city streets, but the miracle of electric light is in its infancy. The person who controls the means to turn night into day will make history—and a vast fortune. A young untested lawyer named Paul Cravath, fresh out of Columbia Law School, takes a case that seems impossible to win. Paul's client, George Westinghouse, has been sued by Thomas Edison over a billion-dollar question: Who invented the light bulb and holds the right to power the country?

About the author
Graham Moore is the New York Times bestselling author of The Sherlockian and the Academy Award–winning screenwriter for The Imitation Game, which also won a Writers Guild of America Award for best adapted screenplay. Moore was born in Chicago, received a B.A. in religious history from Columbia University in 2003, and now lives in Los Angeles.
About the event
---
All state and federal COVID-19 mandates will be followed.
If you have any questions, please contact Dave Anderson at danderson@cc-pl.org
Register for this event
Registrations are closed for this event.