Pop Culture RPG Night
Friday, April 21, 2023
6:00 pm - 9:00 pm
Play your way through two pop culture-inspired tabletop roleplaying game adventures: Avatar Legends and Kids on Bikes.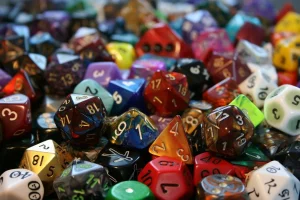 In Avatar Legends, you'll use the power of the elements to find peace in the Four Nations.
Kids on Bikes is set in the '80s and follows a ragtag group of kids and their superpowered friend.
Never played a TTRPG before? That's alright! Both of these systems are designed to give new players an introduction to roleplaying games.
What is TTRPG?
TTRPG stands for Tabletop Roleplaying Game. Players in this style of game create a character and roleplay their way through the game as that character would, often while using dice to help determine their actions. Some popular TTRPG games include Dungeons and Dragons and Call of Cthulhu.
This event is for ages 11-19. Light snacks will be provided.
---
Please note any accommodation requests in the Special Needs section of the registration form.
Check out all our programs in our online newsletter, at https://www.cc-pl.org/connections.
If you have any questions, please contact Danielle at dheiert@cc-pl.org or all Cold Spring programmers at csprograms@cc-pl.org.
*Zoom option available for those who wish to join virtually.
Age Range: 11-19
Snacks Provided: Yes
Register for this event
Registrations are closed for this event.