Zoom Program: Brown Bag Book Club — "The Woman in the Window" by A.J. Finn
Wednesday, November 4, 2020
12:00 pm - 1:00 pm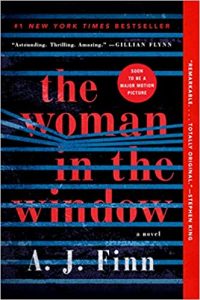 Anna Fox lives alone—a recluse in her New York City home, unable to venture outside. She spends her day drinking wine (maybe too much), watching old movies, recalling happier times . . . and spying on her neighbors.
Then the Russells move into the house across the way: a father, mother, their teenage son. The perfect family. But when Anna, gazing out her window one night, sees something she shouldn't, her world begins to crumble and its shocking secrets are laid bare.
What is real? What is imagined? Who is in danger? Who is in control? In this diabolically gripping thriller, no one—and nothing—is what it seems.
New members welcome!
---
This is a live program that will be conducted via Zoom, a free online video conferencing platform. Registration is required. On the day of the program, we will email you with the link to join the live program. You are not required to have a Zoom account . If you would like to create a free account though, you may do so at https://zoom.us/signup .
If you have any questions, please contact Sam at srouse@cc-pl.org.
---
Age Range: 18 and up
Carrico/Fort Thomas Branch
Register for this event
Registrations are closed for this event.