Early Literacy is top priority for CCPL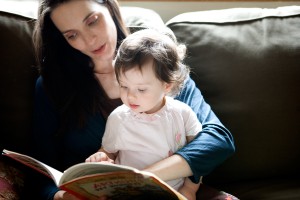 According to a report released by The Kentucky Governor's Office of Early Childhood, 38% of Campbell County's incoming kindergartners were not ready for school.
The screening examined five areas of readiness.
1. General Knowledge & Mathematics
2. Approaches to Learning
3. Health & Physical Well-Being
4. Social & Emotional Development
5. Language & Communication Development 
We think that as a community we can do better, so we've made early literacy services to 0-5 year olds and their parents and caregivers a priority.
What is early literacy?
Early literacy is everything children know about reading and writing before they can actually read and write.
Why is early literacy important?
Research shows that children get ready to read years before they start school, even from birth. The development of early literacy skills through early experiences with books and stories is critically linked to a child's success in learning to read.
What library activities support kindergarten readiness?
In addition to our extensive collection of books and movies for children of all ages, the library hosts a variety of story times for book lovers in training at each of our three branches. When you think of a story time, you might think we only read books but our story times are interactive early literacy experiences complete with games, songs and activities that support the lessons of the written word.
If your child is in daycare or preschool during the day in Campbell County, encourage them to set up a time for our Early Literacy Outreach Librarian to visit to do a story time. The kids love when Carol or Stacey visits and it's free!
What can parents and caregivers do?
Take every chance you have to read with your children, tell and talk about stories, say nursery rhymes and sing songs. Early literacy is not the teaching of reading. Your child will learn how to read in school. The most important thing you can do to foster early literacy is to provide an atmosphere that's fun, verbal and stimulating. When you read, talk and play with your child, you're stimulating the growth of your child's brain and building the connections that will become the building blocks for reading.
If you are looking for more ideas, visit our Early Literacy Pin Board.