New at Newport: the Presidents Room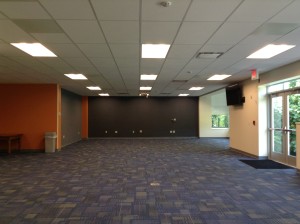 There's more great events than ever at Campbell County Public Library and more people than ever attending them. Now there's more space for it all! After six months of planning and renovation to the lower floor of the Newport Branch, our spacious new Presidents Room is complete.
"It's more state-of-the-art than our other meeting rooms," said Assistant Director and Newport Branch Manager Chantelle Bentley Phillips, citing a projector, big-screen monitor, speakers and a second television that will simultaneously show what's on the projector. "So for people who are in the back, that will be great," she added.
The space will be a good fit for programs such as the Regional History Series, and several groups are already scheduled to use it. The new space will also allow the Library to host traveling exhibits by the American Library Association and the Smithsonian.
The space's double doors will allow exhibitors to easily move valuable items in and out, while its enhanced security will keep them safe.
More Community News