Lines of Brilliance

We are honored to host a traveling exhibition at our Newport Branch that showcases the work of local artist Jim "J.C." Hall, the creator of Lineillism.
When Mr. Hall suffered an intense attack of shingles in 2000, it caused him to see in vertical lines. He began painting what he saw. In the process, he created a new art technique called Lineillism.
Lineillism Revealed opens with a reception Friday, May 18, and runs through June 22.
Reception
The opening reception, from 6-8:30 p.m. Friday, May 18, will feature a special screening of the award-winning documentary "Lines of Sight," presented by film and exhibit creator Steve Oldfield, a Bellevue native.
The screening begins at 6:30 p.m. on the main level of our Newport Branch. After the screening, there will be an opportunity to tour the exhibit on the lower level. Refreshments will be served. Registration is required for the reception.
Exhibit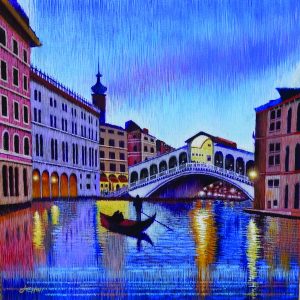 The exhibit includes 10 original Lineillism paintings, two original paintings by Mr. Hall in other styles, two 70-year-old works he painted as a boy and artifacts from his former home studio. The exhibit is open to the public through Friday, June 22, at the following times:
1-7 p.m. Fridays (except for the May 18 opening)
11 a.m.-4 p.m. Saturdays
1-5 p.m. Sundays (except May 27, when the library is closed for the Memorial Day holiday)
Registration is not required to view the exhibit.
More News