Library takes part in Storybook Stroll

Get your read on in Bellevue, KY, when the merchants of the Historic Fairfield Avenue Business District celebrate their favorite stories and characters during Storybook Stroll, 11 a.m. to 3 p.m. Saturday, March 19.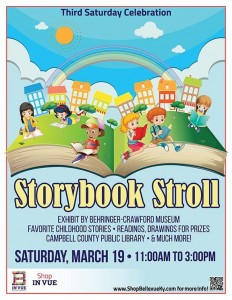 Library brings fun & games to Schneider's
Carrico/Fort Thomas Librarian Laura Stanfield will be hosting story times at Schneider's Sweet Shop. She will also have crafts and games.
Mark Twain entertains at Diamonds and Dimples
Mark Twain visits Diamonds and Dimples Chic Boutique to share his writings and famous musings.
Frame and Hang hosts children's adventure series
Stretch out on the reading rug at Frame and Hang Gallery to hear the cliffhanger adventures of Seckatary "Seck" Hawkins and members of his Fair & Square Club. Written nearly 100 years ago, these stories continue to captivate kids of all ages.
Splendid Things celebrates classic children's tale
"The Velveteen Rabbit," the beloved children's book about how a stuffed animal becomes real through a child's love for him, will be celebrated at Splendid Things. Bunny displays, readings from the classic written 94 years ago by Margery Williams, giveaways and other surprises are planned.
Donate to Little Libraries
Finally, Fairfield Avenue merchants will be accepting book donations on behalf of Bellevue's Little Free Libraries. Bellevue has many of these treasure boxes, including one in front of Circle of Hope Artisans. Book donations should be made at Cozy Cottage.
Storybook Stroll Map
Visit www.ShopBellevueKy.com for more information.
More Community News