Homeschool Hangout

Homeschoolers, join us at the Cold Spring Branch for a program series just for you!
At 11 am on the first Tuesday of the month, homeschoolers can attend a new Homeschool Hangout program series. The series promises fun and educational programs for 1st through 5th graders.
Peggy Collopy of Fort Thomas has been homeschooling five of her own children over the past 16 years.
"I think that Homeschool Hangout is a great idea.  I am down to homeschooling one child," said Mrs. Collopy. "I have been hoping that the library would start a program in the county for homeschool families."
Ashley Wright, the Cold Spring Branch Children's Librarian, looks at the new program series as a great way to connect with the homeschool community.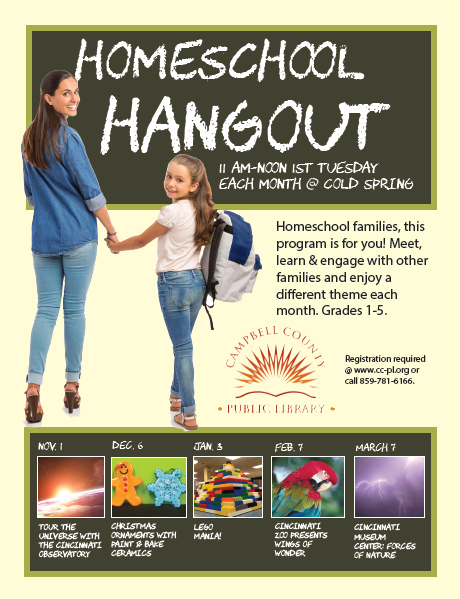 "The homeschool community is a growing community in Campbell County.  We want to make sure that we are offering them additional educational resources.  Homeschool Hangout is a great way for kids and parents to meet other homeschool families," Ashley said.
According to a report from the National Home Education Research Institute, there are about 2.3 million home-educated students in the United States, and that number is increasing by 2%­–8% each year.
When asked what she would say to parents that may consider bringing their kids to Homeschool Hangout, Miss Ashley, as the children at the library call her, had many reasons why they should attend.
"Homeschool Hangout is a great resource and a way to get young children excited about learning and the library. Plus, parents can meet and swap homeschooling ideas while their kids learn something new every month," she said.
Mrs. Collopy believes the new series will be a valuable resource that the homeschool community should take advantage of.
"This is a great opportunity for homeschooled kids to be with other kids. It is wonderful to have resources like this so close to home," Mrs. Collopy said.
To register your child for Homeschool Hangout, click on one of the upcoming programs below. Registration opens two months prior to program date.
Cincinnati Zoo presents Wings of Wonder
{PDF}
Tuesday, February 7, 11 a.m.
Cold Spring Branch
Cincinnati Museum presents Forces of Nature
Tuesday, March 7, 11 a.m.
Cold Spring Branch