For Teachers

School is back in session!  The Campbell County Public Library supports teachers and educators by offering a variety of resources.
Teacher Cards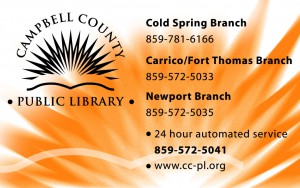 Teachers, daycare providers, and homeschool instructors can sign up for a Teacher's Card. The Teacher's Card is in addition to a personal library card and is for professional needs and educational purposes.
Benefits of the Teacher's Card include:
No overdue fines for items checked out
Access to reliable online databases
Online practice tests for AP exams and college entrance exams
Users can receive books for the classroom, have Children's librarians visit their classrooms, or arrange for a tour of the Library. Teacher's Cards are not restricted to Campbell County teachers or residents. Just bring in current proof of employment or verification of homeschool participation to receive your card.
Request books for a lesson or unit
With a little notice we can pull items to help with projects you assign. We can work with you to pull books and audio materials for you to check out and use in your classroom.
We also can pull books for your students to use in the Library. This way you can be sure even your most procrastinating students will find helpful materials. Learn more!
Homeschooling
Your Campbell County Library offers many resources to support families who homeschool their children. We have meeting and study rooms available for booking at each of our three branches. We also have free Wi-Fi and computers available at all our branches.
Great educational research databases
Academic Search Complete
A scholarly journal, full-text database designed for academic institutions.
Britannica World Data Analyst
Create tables & charts to compare statistics for countries.
ERIC
Education Resource Information Center provides access to educational literature.
LearningExpress Library
Practice tests, exercises, skill-building courses, and information you need to achieve.
MAS Ultra – School Edition
Database designed specifically for high school libraries with full-text for 500 periodicals.
Middle Search Plus
Full-text database for dozens of popular middle school magazines.
Teacher Reference Center
Teacher and administrator trade journals, periodicals, and books.
TOPICsearch
Explore social, political & economic issues and other topics discussed in today's classrooms.