Filmmaking Classes for Teens

Teens, bring your cameras and phones to our Carrico/Fort Thomas Branch for filmmaking classes this March.
Filmmaking Classes
The filmmaking classes below are for tweens and teens. Registration is not required. Learn some new skills in preparation for our Teen Film Festival in April!
Script Writing for Teens
Wednesday, March 6
3:30 – 4:30 pm
Teen Film Festival
Teen Film Festival
Monday, April 15
6 – 9 pm
Mess Hall at Tower Park
We will be celebrating the voices of local tween and teen filmmakers at our first-ever Teen Film Festival on Monday, April 15! The festival will take place in the Mess Hall at Tower Park in Fort Thomas.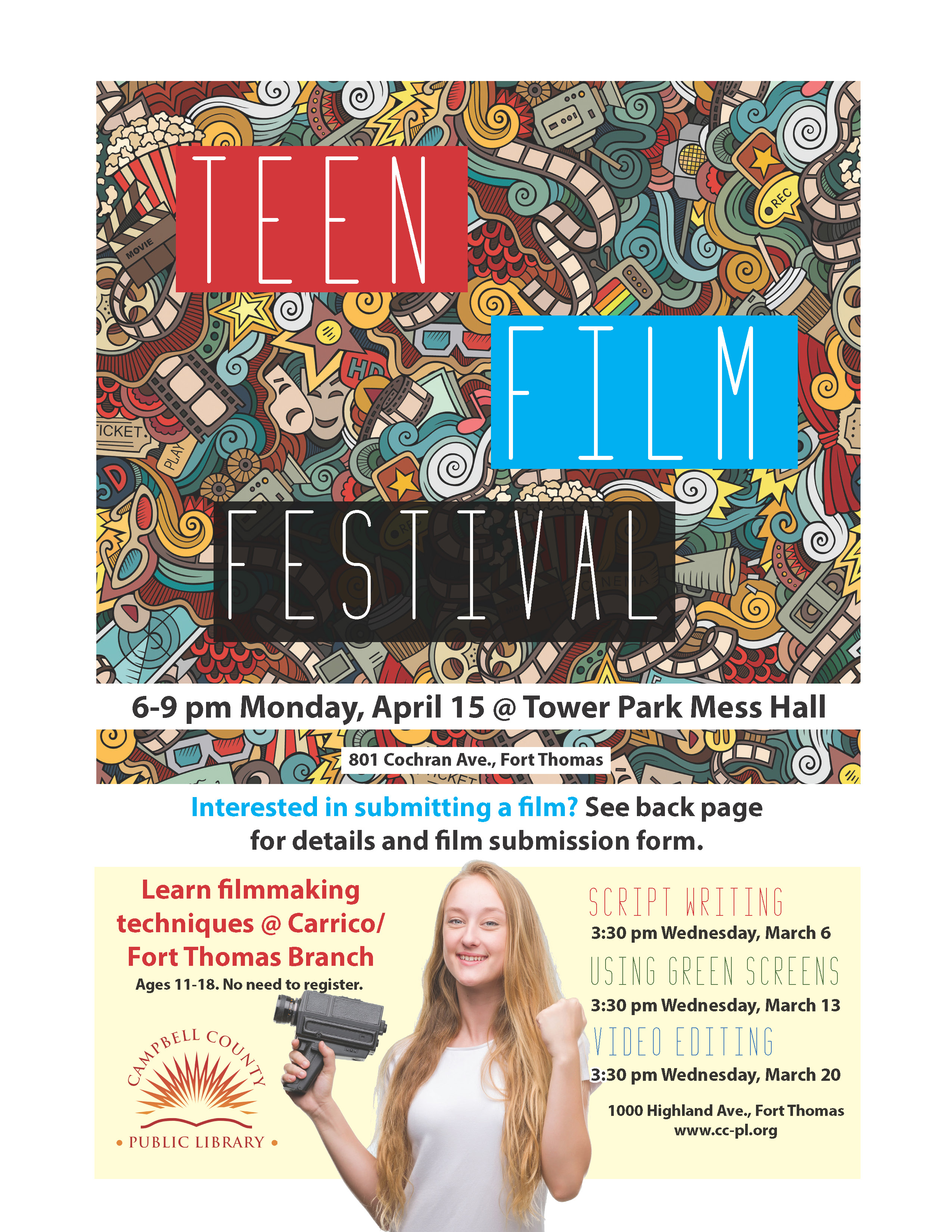 All tweens and teens, ages 11-18, are invited to enter films in the festival. Videos should be 2-5 minutes in length and must be appropriate for families and children.
Participants must submit entries on a USB drive to Morgan Lockard and Paige Wilson at our Carrico/Fort Thomas Branch. Each film must be submitted with a submission form. The USB drive will be returned once we have downloaded the video.
Films must be received at our Carrico/Fort Thomas branch by Monday, April 8. If possible, please let us know in advance if you plan on submitting a video. A panel of community members will review all submitted entries and select films to be screened at the festival.
The Teen Film Festival is free and open to the public. However, we do ask that you register so we can make sure that enough seating is available.
For more information please contact Morgan Lockard or Paige Wilson at our Carrico/Fort Thomas Branch.
More News