The Lives of Susan B. Anthony and Fredrick Douglass
Tuesday, March 31, 2020
7:00 pm - 8:00 pm
Learn about the remarkable lives of Susan B. Anthony and Fredrick Douglass.  Dr. Eric R. Jackson will be joining us from Northern Kentucky University's Department of History and Geography.
Dr. Eric R. Jackson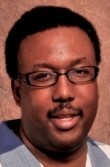 With almost twenty-five years of academic experience at the university level, Dr. Jackson teaches in the fields of American and African American History/Studies, Race Relations, and Peace Studies. He has over fifty publications, including in journals such as Africology: The Journal of Pan African Studies, the Journal of African American History, and the International Journal of World Peace. Dr. Jackson recently received two awards for his community outreach work: the Goodwill Ambassador for the Golden Rule Award (2016) and the Second International World Civility Award from IChange Nations (2017).
You may also recognize Dr. Jackson as a regular "Food For Thought" lecturer!
Art and Education
For an artistic take on the story of Susan B. Anthony and Fredrick Douglass, join us for Library Night at Falcon Theater on March 19.
Meeting Room: Newport - Presidents Room Lower Level
Register for this event