Spotlight Series: Quilt Art: Examining the Narrative in Kentucky Quilts
Wednesday, August 26, 2020
6:00 pm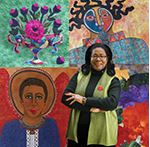 Dr. Pearlie Johnson explores Kentucky's history through the work of quilters.  Based on historical records, secondary sources, and oral history interviews with quilters across Kentucky Johnson discusses 19th-century quilts made by black women living and working on slave plantations, traditional quilts made by African American women of the 20th century, as well as contemporary art quilts made by women of all cultural groups of the 21st century.  Her work explores women's history, storytelling, identity politics, social activism, and empowerment.  Her study of quilts in Kentucky is aimed at examining cross-cultural parallels in technique and assemblage, as well as revealing unique designs.
COVID-19 Precautions
Everyone, age 3 or older, who attends library programs will be required to wear masks.  This is in keeping with recommendations for group gatherings as library programs require closer proximity for longer periods of time.
We appreciate your understanding and cooperation as we work to provide the best quality programs while also protecting the health of our patrons and staff.  Please note any accommodations requests in the Special Needs section of the registration form.
Questions may be directed to Amy Carroll at Acarroll@cc-pl.org.
Register for this event