Drop Your Drawers far surpasses goal

Clap, clap, clap and a huge thank you to you! 
In November and December, we asked you to donate packages of new underwear for boys and girls to replenish Campbell County elementary schools' supplies of emergency underpants and provide assistance to each school's Family Resource Centers.
Your response was, simply, incredible.
All told, you donated 5,297 pair of underwear.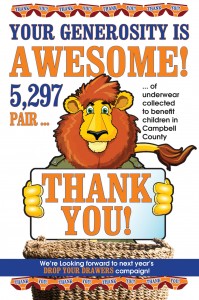 Several library patrons and organizations are super stars:
Susan Mitchell of Cold Spring donated 185 pair.
Cline Social Club donated 372 pair of underwear to support children in the community.
Cornerstone Montessori donated 153 pair.
An anonymous patron donated 100 pair to the Newport Branch.
Novolex in Florence, donated $100 toward the purchase of new underwear.
The Kroger Company donated $100 toward the Drop Your Drawers underwear drive.
The 2016 class of Leadership Northern Kentucky donated nearly 200 pair of underwear to the cause.
Each of the 14 Campbell County public elementary schools will be receiving a box in the coming weeks with more than 370 pair of underwear.
We are looking forward to the campaign next year! Thank you.
More Community News