Award Winners Prize Pack

If you love reading award-winning novels, this is the giveaway for you.

Award-Winning Novels
There are numerous literary awards these days. Some of the most notable awards are:
Pulitzer Prize
Newbery Medal
National Book Award
Nobel Prize in Literature
Man Booker
Hugo Awards
National Book Critics Circle Awards
Take a look at some of the award-winning novels in our catalog by clicking on the covers below.
Prize Pack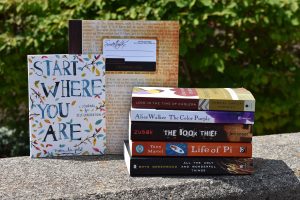 Get inspired with our award winners prize pack!
"Life of Pi" by Yann Martel
"The Color Purple" by Alice Walker
"The Book Thief" by Markus Zusak
"Love in the Time of Cholera" by Gabriel García Márquez
"All the Ugly and Wonderful Things" by Bryn Greenwood
Reading Log for Book Lovers
"Start Where You Are: A Journal for Self-Exploration" by Meera Lee Patel
Entering for a chance to win is easy! All you need to do is answer the question in the entry form below. The contest ends at noon on Monday, Aug. 13.
Want to increase your chances of winning? You're in luck! Answer the question on our Facebook, Instagram and Twitter accounts for up to three additional entries.
Thank You
An enormous thank you to the Friends of the Campbell County Public Library for donating the books used in the prize pack.
Find gently used books for amazing prices at the Friends Book Sales. Prices range from free to $2!
More News